Fed's Low Rate Pledge Still Backs Equities
Chris Ciovacco: Markets have countless moving parts, which means trying to figure out why the market does what it does, is difficult at best. Investors always look for clean explanations of why markets move up or down. The simple truth is markets often move in head-scratching ways. For example, we would expect that a worse than expected labor report, arriving during a period of Fed tapering, would result in lower stock prices. That is not what happened Friday.
From Bloomberg:
U.S. stocks rose, with the Standard & Poor's 500 Index capping its best two-day rally since October, amid optimism economic growth is robust enough to weather stimulus cuts even as data showed weaker-than-forecast hiring. "The broader data beyond just this one jobs report tells us the economic recovery is intact and the economy's growth rate is continuing to strengthen," Darrell Cronk, the New York-based regional chief investment officer at Wells Fargo Private Bank said by phone. "I just don't think the market is looking at it and saying that this one number changes the overall trajectory of what the Fed is trying to do."
Aggregate Tolerance For Risk Improving
In an October 2013 article, we provided a hypothetical example of how the market values securities. Since it can help us understand Friday's head-scratching gains in stocks, we will revisit it now. Let's assume we run a controlled market experiment where:


We give 1,000 investors an annual report to read for company XYZ.


All 1,000 are asked to read the report and then value the stock.


Stock XYZ can only be traded or owned by these 1,000 investors.


The Market Does Not Care What We Think
If I am one of the 1,000 investors in the experiment, how relevant is my personal opinion in terms of how the price of stock XYZ is set in the marketplace? In simplified terms, my personal take on the value of XYZ impacts the price by roughly 0.10% (1/1000). Stated in a politically correct manner, 99.9% of the factors impacting the price of XYZ have nothing to do with my personal analysis, forecast, or opinion about XYZ, or the global macro environment for that matter. Said in a more direct manner, the market does not care what "I think" about where XYZ is headed or what it is worth. It sounds harsh, but that is the way markets work. Does that mean fundamentals don't matter? Absolutely positively not; the concept simply defines how fundamentals impact asset prices.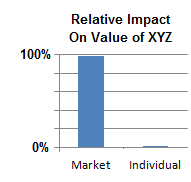 If we expand the XYZ analogy to the real world, it gets even more humbling. Facebook (FB) trades 65,000,000 shares on a typical day. It closed Friday at $64.32. If we assume the average FB trade is for $10,000 worth of stock, that means the average number of shares traded per individual transaction is 155 (10,000/64.32). A back of the napkin estimate of the number of people that trade Facebook every day comes to 419,354 (65M shares per day / 155 shares per individual transaction). Therefore, if I am trading Facebook, the impact of my personal opinion/research/forecast on the price of the stock is 1 divided by 419,354 or 0.00023%. The admittedly crude analysis tells us 99.977% of Facebook's value is impacted by external factors that are in no way impacted by what "I think" or "what I think will happen next".
We Don't Have To Agree With The Markets To Profit
The takeaway from the example above is that the aggregate opinion of all investors sets asset prices, and our personal opinion has little-to-no impact. This means the way to balance risk and reward is to monitor the aggregate opinion of future outcomes related to the economy, Fed policy, earnings, etc. When the aggregate opinion is bullish, the odds favor higher stock prices. When the aggregate opinion is bearish, the odds favor lower stock prices. We can monitor the aggregate opinion using stock charts.