Monday's High Negates the 1929 Analogy For The S&P 500(INDEXSP:.INX)
Chris Ciovacco: With the Federal Reserve tapering their bond-buying program, investors are looking for evidence of an improving economy. Given that mortgage rates are well off their recent lows, it is not surprising to see some slowing momentum in the housing market, which is exactly what the data showed Tuesday. From Bloomberg:
The S&P/Case-Shiller index of property values in 20 cities rose 13.4 percent from December 2012 after increasing 13.7 percent in the year ended in November, the group said today in New York. It was the first deceleration since June. The gain matched the median estimate of 33 economists surveyed by Bloomberg. "The housing recovery continues, but perhaps not as vigorously as it did in the first half of last year," said Michael Feroli, chief U.S. economist at JPMorgan Chase & Co. and the best forecaster of the home-price index during the past two years, according to Bloomberg calculations. "Even so, appreciation trends still look pretty good even though they may not be as strong as they were."
Head-and-Shoulders Off Table
On February 11 we outlined a simple "don't lose too much sleep" strategy for the scary 1929 parallel chart that has been making the rounds on Wall Street. The 1929-like scenario involved a pattern known as a head-and-shoulders top. Monday's new intraday high in the S&P 500 pretty much put the head-and-shoulders scenario to bed, which for the most part negates the 1929 analogy for the S&P 500.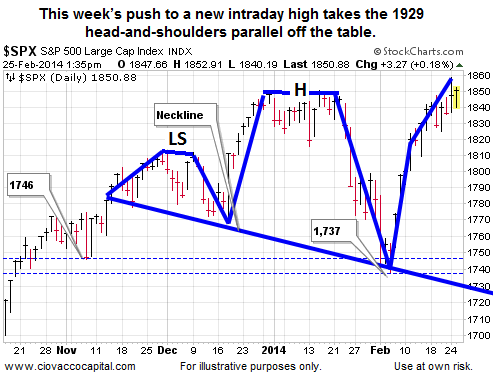 Stockcharts.com describes the elements needed to form the final piece of the head-and-shoulders puzzle, or the right shoulder:



The advance from the low of the head forms the right shoulder. This peak is lower than the