Amazon.com, Inc. (AMZN): Price Hike Needed To Happen
Tara Clarke: Amazon.com, Inc. (NASDAQ:AMZN) stock stands to get a boost from a move it implemented this morning (Thursday). We'll call it "Operation Prime."
Around 8:30 a.m. EST, Amazon Prime members received the following email, notifying them of a 25% price increase from $79 per year to $99 per year, effective upon membership renewal.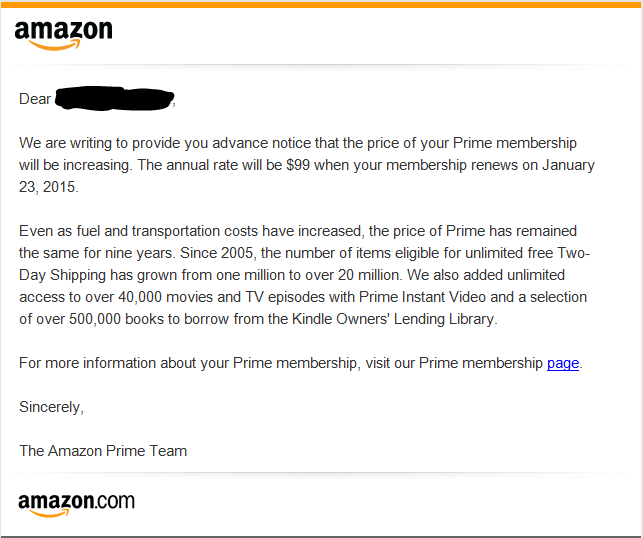 Amazon Student Prime will also rise from $10 to $49 a year.
Operation Prime is a very reasonable move for the world's largest Internet retailer, and even Prime members will admit that once they get past the $20 increase.
It's also a necessary step for Amazon – and its investors.
Here's why…
The Amazon.com (Nasdaq: AMZN) Price Hike Needed to Happen
First, members knew Operation Prime was coming. Amazon said so when it released Q4 earnings on Jan. 30.
At the time of earnings release, AMZN Chief Financial Officer Tom Szkutak stated that the cost of offering free two-day shipping to Prime customers had become unfeasible for the company. In fact, Amazon was considering raising the Prime membership cost by as much as $40.
In a quarter of strong gross domestic product (GDP) growth from holiday sales, Amazon still missed analysts' – albeit aggressive – expectations on both its top and bottom lines. Earnings per share (EPS) came in at $0.51 on sales of $25.59 billion, $0.15 below the consensus $0.66 per share on sales of $26.06 billion.
In a note today, Cowen & Co. analyst John Blackledge called Prime's price bump an "incremental positive." He estimated Amazon has 23 million Prime members in the United States, and a $20 price increase will generate around $460 million in additional revenue.
The market seems to agree. Amazon stock is up $8.90 per share to $379.54 (2.4%) as of 11 a.m. EST.
Second, AMZN hasn't increased its Prime membership fee since launching it in the United States in 2005.