eBay Inc (EBAY): The Best Way To Play The Stock Right Now
Rick Pendergraft: Once upon a time, eBay Inc (NASDAQ:EBAY) was a high flying internet stock. The company's initial public offering was as hot of an IPO as there was during the internet stock hay days of the late 90's and that is saying something. Just take a look at the monthly chart below.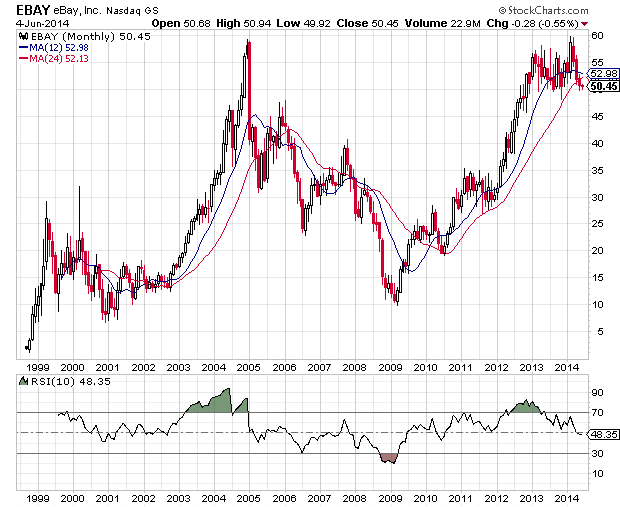 This chart has been adjusted for four different stock splits: a 3:1 split in March 1999 (less than six months from the IPO launch), a 2:1 in May 2000, a 2:1 in August 2003 and a 2:1 in February 2005.
Less than eight months after the stocks debut, it had gained over 1,000%. That's right, in less than eight months, investors that purchased the stock and held on to it had experienced what people in the industry like to call a 10 bagger. But then the bear market hit and the stock dropped and went through a consolidation period before taking off on another huge run from the low in October 2002 until the high in December 2004, the stock gained over 350%.
Unfortunately, the high reached in 2004 would stand for over nine years. It wasn't until this February that the stock eclipsed $59.21 and even then it was by the smallest of margins that it set a new high.