Should Nike Inc (NKE) Buy Lululemon Athletica inc. (LULU)?
Jay Taylor:  I hadn't heard it suggested until a colleague of mine hinted at it in an article this week. It was a question I had not yet asked myself. "Should Nike buy Lululemon?"
The more I think about it, the more I think the answer is yes.
Lululemon (Nasdaq: LULU) shares have been under tremendous pressure since peaking just above $80 around this time last year. A scandal soon broke out about Lululemon's signature yoga pant being see-through. The result was a recall and loss of confidence that ignited the fall in the company's stock.
Since the peak, shares are down roughly 50%.
The most recent hit came after a lackluster earnings report a couple weeks ago. The stock fell 16% despite the fact that the company actually beat earnings expectations by $0.02 per share.
The company faces some real issues.
Founder and 27% owner of Lululemon Chip Wilson, who stepped down from the company's board last month, was reported to have voted against two Lululemon board members including its Chairman. Despite the fact that they were still elected to the board, investors see this as foreshadowing for a battle between the board and Lululemon's founder.
I, too, see this as the set-up for some kind of corporate drama. But I think that corporate drama will be a buyout and I think it will be positive for shareholders.
Reports suggest that Chip Wilson has hired Goldman Sachs (NYSE: GS) to advise him on his options. Whether he tries to force a sale, decides to partner with a private equity firm for a leveraged buyout or just sells his stake, Chip Wilson's 27% ownership is a force to be reckoned with.
On its most recent earnings call the company also announced that its CFO was retiring and the CEO called this a "transition year."
While same store sales fell for the second quarter in a row – a bad sign – overall sales rose 11%. I think there is still a considerable opportunity for Lululemon investors, especially if the company joins up with the distribution and marketing muscle of an acquirer.
Now, trading at a PE of 24.2, Lululemon shares haven't been this cheap since the depths of the financial crisis.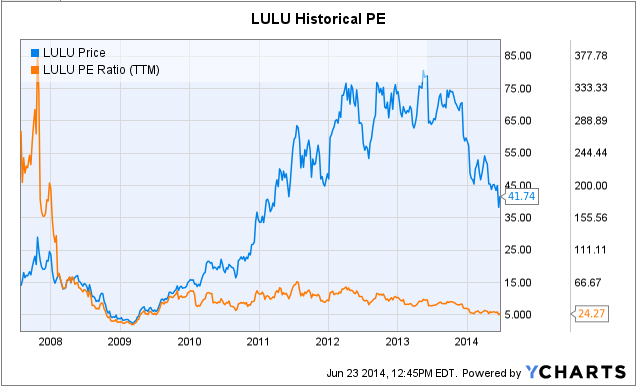 Source: Y Charts
It is because of this that I think a buyout is likely. At home in Boulder, Colorado – perhaps the epicenter of the Whole Foods (NYSE: WFM) shopping, yoga pant wearing world – it's clear that Lululemon's popularity is not waning.