Billionaire Macro Titan Soros Ramping Up Some Shareholder Activism
Billionaires Portfolio: The billionaire investor best known for breaking the Bank of England is excerpting his influence again.
George Soros, the father of central bank activism is ramping up some shareholder activism — against Penn Virginia Corporation (NYSE:PVA).
The Soros family office, Soros Fund Management, disclosed a nearly 10% stake in PVA in its March filing.
Last week they wrote a letter to PVA management complaining that they are destroying shareholder value, and they are pushing the company to sell itself.
Soros Fund Management is the largest shareholder and they are shaking things up at PVA.
The stock is up more than 13% since Wednesday of last week.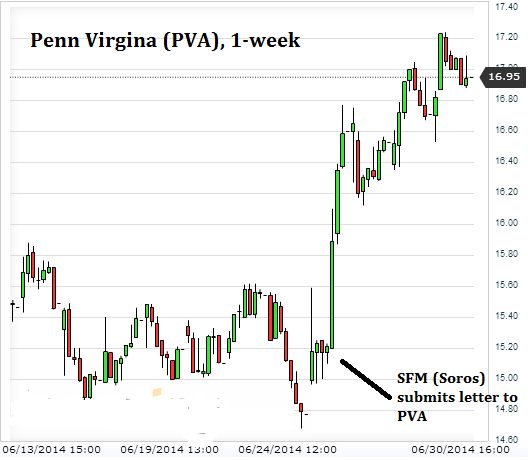 Please don't miss the opportunity to learn more about me and how we follow Billionaire Investors into stocks by visiting the Billionaires Portfolio.
Written By William Meade From The Billionaires Portfolio
The insider behind the Billionaire's Portfolio is William Meade. William started his career with Wood Asset Management. Wood Asset Management was a $1.5 billion dollar institutional asset management firm and hedge fund, founded by Gary Wood, a former Goldman Sachs Partner and Harvard MBA. At Wood, William helped manage equity and fixed income portfolios for major university endowments, Fortune 500 pension funds and super high net worth clients (including 2 billionaire families).
Next, William was Director of ETF and Mutual Fund Research for Zacks Investment Research in Chicago. At Zacks, he worked with the founder Len Zacks, a PHD from MIT, in developing and maintaining a proprietary model that ranked over 20,000 ETFs and mutual funds. This model was viewed and used by over 150,000 people monthly, and was published in US News and World Report, and featured on CNN, Yahoo Finance, and Fortune.com.
William received a Masters in Economics from Johns Hopkins University, including PhD level coursework in International Economics. At Johns Hopkins, Mr. Meade was taught by Economists from The Federal Reserve and Department of Treasury. While at Johns Hopkins Mr.Meade consulted for a top hedge fund in Washington DC.

You are viewing an abbreviated republication of ETF Daily News content. You can find full ETF Daily News articles on (www.etfdailynews.com)