Broadcom Corporation (BRCM): Sentiment Is Too Bullish For The Stock
Rick Pendergraft:  Broadcom Corporation (NASDAQ:BRCM) is a semiconductor manufacturer that specializes in integrated circuits for wired and wireless communications. In terms of revenue, they are the second largest company in the integrated circuit industry, second only to Taiwan Semiconductor (NYSE: TSM).
Over the last six months, the stock has performed well and it was given a boost at the beginning of June when the company announced its intentions to sell its baseband business. This news was greeted with enthusiasm as the stock gapped almost 10% higher on the announcement. Apparently investors liked the idea of exiting this particular business and analysts did as well for the most part. There were three upgrades and one downgrade on the news.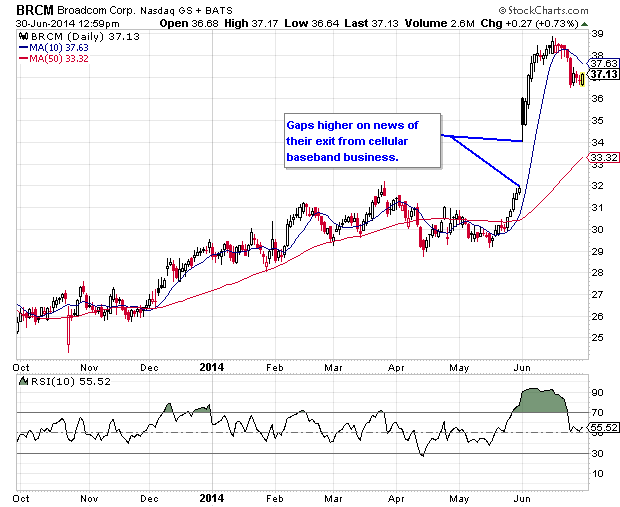 After the announcement, the stock did continue to move higher for the next two weeks, but has since rolled over and lost approximately 4.5%. Looking at the weekly chart, we see a potential reason for the stock rolling lower. There is significant resistance in the $38.50-$39 area as this was a significant high in March 2012.