Oil Services ETF In Overbought Territory
Rick Pendergraft: The Market Vectors Oil Services (NYSE: OIH) caught my attention this past weekend as a number of the stocks in the oil services sector appeared on my bearish scans. Rather than cover the companies individually, I decided to look at the OIH itself to see what could be gleaned from the charts.
The weekly chart presented several interesting developments. The 10-week RSI was the first thing that caught my attention. It recently went over the 80 level for the first time since February 2011. That instance came just ahead of a major selloff in the ETF that saw the price lose over 44% in just over six months. The second item of note that caught my eye was how far ahead of its 52-week moving average the ETF had moved. Over the last year and a half, anytime the ETF has gotten too far ahead of its 52-week moving average, the price has fallen and brought the fund back down to the moving average.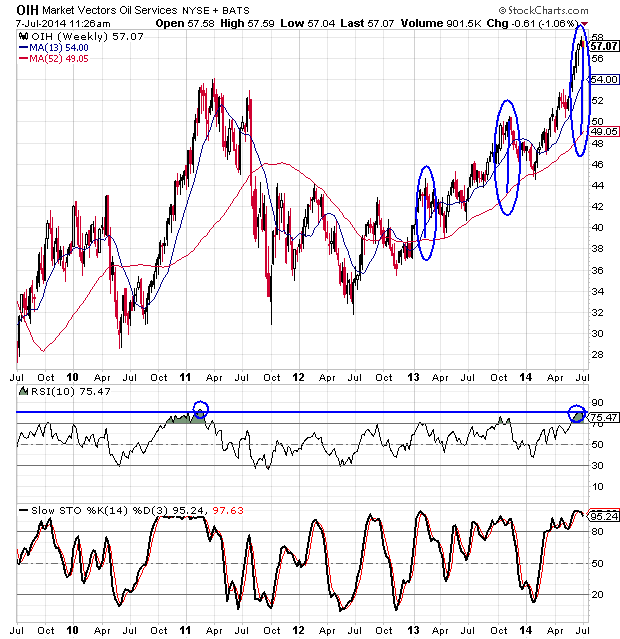 Looking at the monthly chart, we see that the OIH stock has a way to go before it reaches its all-time high of $70.48. That high was reached during the oil spike in 2008 that took the price of oil up to $147 a barrel. Looking at the monthly oscillators we see that the OIH is the most oversold it has been in several years. The slow stochastic readings look to be ready for a bearish crossover like the one that occurred in 2011- the aforementioned time period where the fund lost 44% in six months.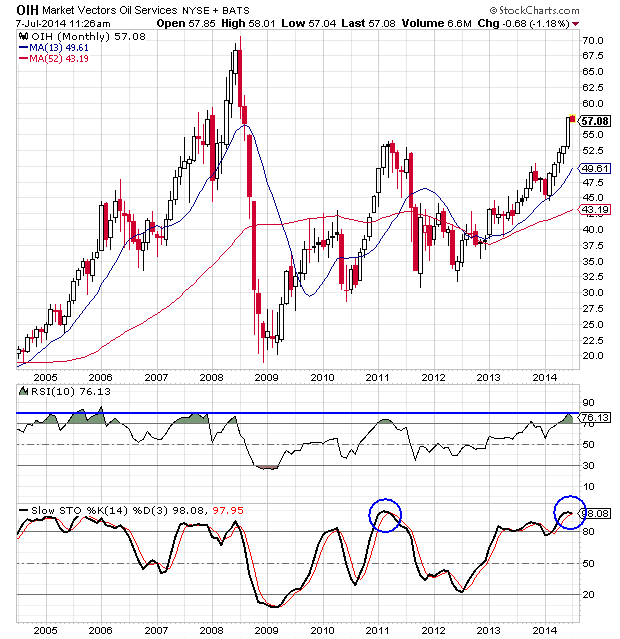 Rather than look at just the sentiment of the OIH itself, I decided to look at the sentiment of the top holding as well. For the OIH itself, the put/call ratio is at its highest reading for the past year which suggests pessimism and the short interest ratio is at 6.30 which also suggest pessimism toward the fund. However, the short interest itself has fallen from 19.6 million to 12.6 million since the beginning of February. Even though the short interest has fallen, the ratio has risen due to the average volume declining drastically.
The top three holdings in the OIH are Schlumberger (NYSE: SLB), Halliburton (NYSE: HAL) andNational Oilwell Varco (NYSE: NOV).