Benefits Of Dividend & Blue Chip Investing
Chris Ciovacco: In recent years, many investors have been attracted to the "safety" and "wealth-building" appeal of dividend stocks. Therefore, it is prudent to examine history and ask:
Will my net worth take a big hit holding blue-chip dividend payers in the next bear market?
Before we explore the facts, it is important to understand that well-intentioned investors have a habit of repeating the same mistakes over and over again. If we understand the propensity to make mistakes, it is more likely we can reduce the odds of taking a hard-to-recover-from blow to our retirement nest egg and/or estate. Is it a mistake to think of dividend stocks as safe? You can decide after reviewing the evidence.
Dividend Investors Making A Common Mistake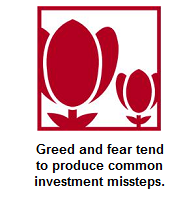 Why did we have a tulip bulb mania in the 1660s, a dot-com bubble in the 1990s, and a housing bubble in the late 2000s? The human emotions of greed and fear have not changed the last 400 years. To refresh our memories, a quick read of the segment below from an April 2000 BusinessWeek article is in order:
Around 1624, the Amsterdam man who owned the only dozen specimens was offered 3,000 guilders for one bulb. While there's no accurate way to render that in today's greenbacks, the sum was roughly equal to the annual income of a wealthy merchant. In recent years, as investors have intentionally forgotten everything they learned in Investing 101 in order to load up on unproved, unprofitable dot-com issues, tulip mania has been invoked frequently.
Just The Facts Ma'am
Rather than pontificate about the pros and cons of holding dividend stocks, it is best to focus on their performance in the last bear market. Our intent here is not to criticize any article or piece of well-intentioned investment research, but rather to educate investors about the downside risks associated with a buy-and-hold strategy in "safe and reliable" dividend paying stocks.
The 10 Most Popular High-Yielding Dividend Stocks
Our first list of dividend payers was compiled based on the concern that a stock market correction is overdue. The list includes Unilever (UN), General Electric (GE), ConocoPhillips (COP), Vodafone (VOD), Johnson & Johnson (NYSE:JNJ), Sysco (SYY), Pfizer (PFE), Merck (NYSE:MRK), Eli Lilly (LLY), and Glaxo SmithKline (NYSE:GSK). Corrections are followed by rallies to new highs. Therefore, a buy-and-hold strategy can work well during a normal market correction. However, the real test of wealth preservation comes in a bear market. The blurb below from The Street describes the list of 10 stocks that follows:
Concerns that a stock market correction is overdue may be turning investors, particularly those near or in retirement, into yield hounds… In addressing that interest, ratings and research firm Morningstar, which tracks the portfolio changes of 26 top-performing mutual funds for its "Ultimate Stock-Pickers" series, screened its funds list. It found the most dividend-focused funds with stocks that pay an annual yield greater than that of the S&P 500's 2% for last year…Here are the 10 most popular high-yielding dividend stocks among Morningstar's Ultimate Stock-Pickers funds, listed in inverse order of highest yield.
How would we have done in the last bear market with these 10 stocks using a buy-and-hold approach? The table below shows the closing prices for each stock at the bull market peak, October 9, 2007, and the bear market bottom, March 9, 2009.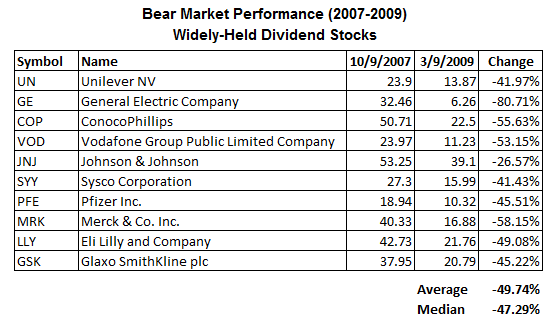 A False Sense Of Security
Our next list of dividend payers comes from a July 2013 article on Yahoo Finance:
So, what's the appeal? For one: security. A blue-chip stock gives you equity in a large, reputable and financially sound company with a long history. Their stocks are attractive not only because of their familiarity, but because they tend to be less volatile and have a record of paying stable or rising dividends (read: extra money in your pocket) for years, if not decades…we've highlighted 10 popular, widely held stocks.
The list includes McDonald's (MCD), Coca-Cola (KO), Wal-Mart (WMT), General Electric (GE), Procter & Gamble (PG), Microsoft (MSFT), AT&T (T), Walt Disney (DIS), Wells Fargo (WFC), and Johnson & Johnson (JNJ).