Investing In Self Storage Stocks
Jay Taylor: Americans love their stuff. 84% of American communities have a self storage facility of some kind and 9% of us rent at least one storage unit. The industry is growing, with overall capacity rates rising year after year. But occupancy rates are rising as well, signaling great strength in the self storage business. It's no surprise then that investors are looking to the self storage industry for both steady income and growth.
You might be wondering how to invest in self storage. Fortunately there are several great options for investing in storage facilities and none involve the actual work of building, marketing and managing a storage facility.
Invest in Self Storage: Amerco (Nasdaq: UHAL)
Amerco, the parent company of U-Haul, isn't the most obvious choice when it comes to investing in self storage. The company is best known for its nationwide network of rental vans and trucks but U-Haul has also built out a network of what it calls "moving services." For example you can buy U-Haul boxes and have metal storage pods – called U-Boxes – delivered to your home or office then shipped to your destination.
Another moving service that U-Haul offers is self storage. Below is U-Haul's self storage coverage map.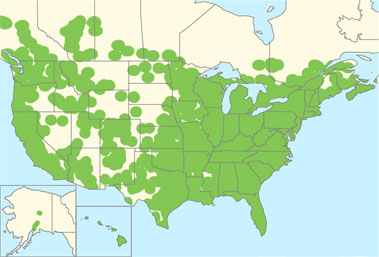 Source: Uhaul.com
In May the company reported that self storage revenue in fiscal year 2014 increased 19.1% compared to 2013. The company also increased storage capacity by about four million square feet in the last two years.
With a household name and "the most coverage in North America," the company is well positioned to do well in the self storage industry.
Invest in Self Storage: REITs
REITs – Real Estate Investment Trusts – are a great way to invest in the self storage industry.
There are four REITs that dominate the space.