Are You Exposed To False Diversification Risk?
Chris Ciovacco: While building a growth-and-income portfolio for retirement, many investors have properly addressed steps 1, 2, and 3 in the list below. As we will demonstrate via step 4, portfolios consisting of a diversified basket of blue-chip dividend payers may leave investors exposed to higher than anticipated risks in a bear market. Therefore, adding step 5 to your prudent dividend approach can improve your odds of protecting and growing your retirement nest egg in both bull and bear markets.
Due Diligence Steps


Secure income using Dividend Champions screen.
Diversify across all major S&P 500 sectors to reduce volatility and risk.
Check valuations and fundamentals.
Check portfolio's performance in bear market.
Develop a specific exit strategy/risk management plan.
A Well-Constructed Portfolio
Since our firm focuses on all asset classes and market sectors, we will let the retirement experts help us build a prudent growth-and-income portfolio to use as a basis for this risk management exercise. Since the benefits of dividends are well documented and many retirees need income, we started with an excellent list, the Dividend Champions. The vast majority (88%) of the stocks in our hypothetical portfolio (see below) are current Dividend Champions. We also used Chuck Carnevale's excellent fundamental screens to help us with the security selection process. The vast majority (83%) of our portfolio below passed one of Mr. Carnevale's relatively recent screens.
In the table below, if the column Pass Recent Value Screen? has a "yes", the stock appeared and passed screens in one of the three articles above. We added a few stocks outside the screens for diversification purposes. We wanted to have at least two stocks from each major S&P 500 sector. Since financial stocks tend to perform well on valuation and income screens, we added a couple of extra consumer staples stocks to offset the added risk of over-weighting financials. The portfolio consists of Target (TGT), Genuine Parts (GPC), Altria Group (MO), Procter & Gamble (PG), Wal-Mart (WMT), Archer Daniels Midland (ADM), Chevron (CVX), Exxon Mobil (XOM), AFLAC (AFL), Franklin Resources (BEN), Community Trust Bancorp (CTBI), Eaton Vance (EV), Johnson & Johnson (JNJ), Medtronic (MDT), Stanley Black & Decker (SWK), 3M (MMM), HB Fuller (FUL), PPG Industries (PPG), Automatic Data Processing (ADP), International Business Machines (IBM), AT&T (T), Verizon (VZ), Consolidated Edison (ED), and Southern Company (SO).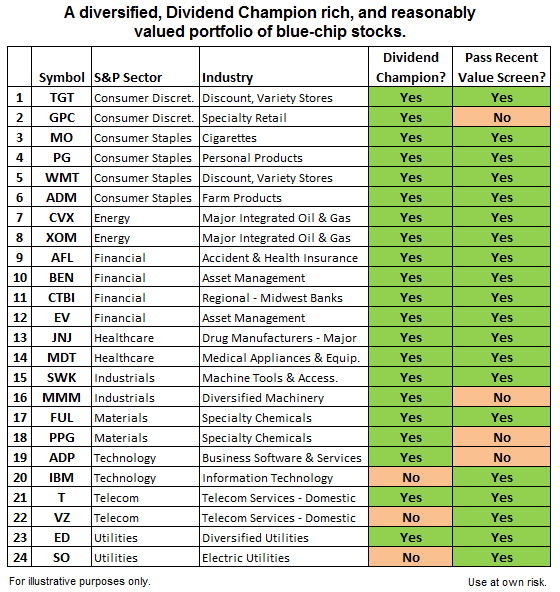 STEP 4: Test Portfolio In Bear Market
In the minds of many investors, one of the objectives of investing in established blue-chip stocks is to reduce risk in next inevitable bear market.