Google Inc (GOOG): Why The Stock Is A Great Long-Term Buy
Tara Clarke: Google Inc (NASDAQ:GOOGL) has struck a $300 million deal with five Asian telecom companies to develop and implement a trans-Pacific cable that will connect Japan and the United States undersea.
The submarine cable has a name: FASTER. And it'll be built as soon as possible – construction will commence immediately, according to NEC Corp. (TYO: 6701), the system supplier for the line. FASTER is expected to be fully operational by second-quarter 2016.
U.S. cities Los Angeles, Portland, San Francisco, and Seattle will be connected to the Japanese cities of Chikura and Shima.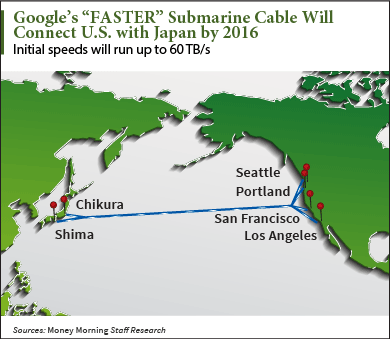 TechCrunch notes that Google's choice of U.S. cities will put FASTER close to the company's data center in The Dalles, Ore., which will give that facility a better connection to Japan.
FASTER will reach initial speeds of up to 60 terabytes per second (TB/s). By comparison, Comcast internet typically operates at 50 megabytes per second (MB/s). One gigabyte (GB) is equivalent to 1,024 MB, and one TB is equivalent to 1,025 GB. That means FASTER will be 60,000,000 times faster than Comcast internet.
"60 TB/s is in a speed range that typically defines an entire network load," Maintainn developer and MT LLC engineer Rami Abraham said. "Although a single consumer-grade computer could not utilize a connection this fast to its' full capacity, if a single computer had such a dedicated connection, the user could download, for example, around 80,000 HD movies in 1 second."
Google senior vice president of technical infrastructure Urs Hölzle posted the announcement on Google+ on Monday morning:
"At Google we want our products to be fast and reliable, and that requires a great network infrastructure, whether it's for the more than a billion Android users or developers building products on Google Cloud Platform. And sometimes the fastest path requires going through an ocean. That's why we're investing in FASTER, a new undersea cable that will connect major West Coast cities in the US to two coastal locations in Japan with a design capacity of 60 Tbps (that's about ten million times faster than your cable modem). Along with our previous investments – UNITY in 2008 and SJC (South-East Asia Japan Cable) in 2011, FASTER will make the internet, well, faster and more reliable for our users in Asia."
You see, it turns out that the U.S. and Japan are already connected via submarine cable, compliments of Google.