The Path to $10,000 Bitcoin
How about the $70 trillion in global stocks? Yes, we all "know" that stocks will never go down ever again because central banks can keep inflating new credit bubbles indefinitely–but let's not kid ourselves: history tells us that stocks remain a speculative gamble.
How about the $62 trillion in unsecuritized debt instruments? How much of this debt is collateralized by fast-dying malls, bubble-priced real estate, or Unicorn-type valuations in other assets?
Take a gander at this chart of financial assets, roughly $300 trillion, and note that this doesn't include real estate, housing, etc. Global real estate is estimated at $217 trillion, roughly two-thirds of financial wealth.
Together, these assets add up to over $500 trillion.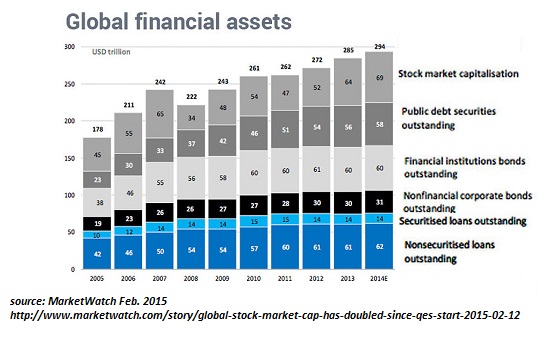 Once again, the larger context here is: all these assets are speculative. Yes, even real estate. Consider this, if you missed it: When Assets (Such as Real Estate) Become Liabilities.
Then there's the currency market. Care to argue that currencies are non-speculative investments? Is that why Chinese wealth is gushing out of the yuan, because it's so guaranteed to never lose purchasing power? Is that why the euro fell from 1.40 to 1.05, because it's a guaranteed safe investment? Venezuelans learned the hard way that fiat currencies when mismanaged by the issuing nation/central bank can destroy wealth on an unimaginable scale.
So now let's turn to bitcoin, with a market cap of about $14 billion, down from a recent high of $18 billion. Now compare that to $500 trillion. If we take 1 measly little trillion, bitcoin's entire market cap is 1/70th of that.
So let's imagine a scenario in which tens of trillions of at-risk wealth suddenly seek an alternative–any alternative to staying in an asset class that's circling the drain. We're accustomed to "rotation," the nice little game where bonds can be sold and the capital invested in real estate or stocks, or vice versa.
We're less accustomed to all the conventional asset classes toppling like dominoes. Where do the fleeing trillions go when stocks, bonds and real estate are all going down in a chaotic sell-off? Gold and silver are time-honored safe havens, but it's not too difficult to foresee the potential for limits or bans on gold, or supply constraints. Some percentage of investors will consider alternatives.