"Bigger Systemic Risk" Now Than 2008 - Bank of England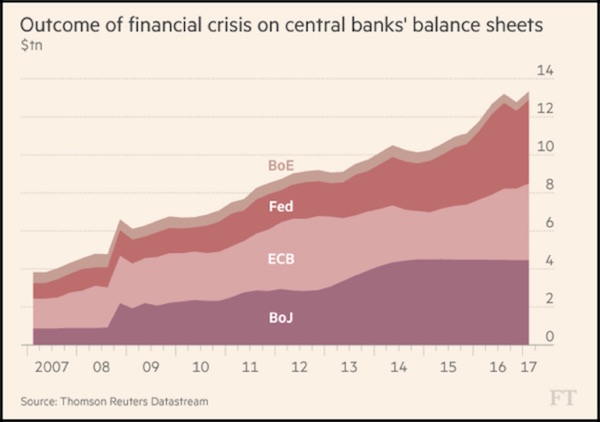 Dealers might struggle to absorb these sales if redemptions are only a third higher, an event which the study described as "an unlikely, but not impossible, event".
Whilst the study states that this was an incomplete exercise in assessing the risk in the system, it was clear that it had raised cause for concern namely due to such risks creating a feedback loop between individually safe parts of the market that amplified the shock.
"Nevertheless, it has allowed a scenario to be explored in which large-scale redemptions from open-ended investment funds trigger sales by those funds, with resulting spillover effects to dealers and hedge funds."
Concerns over how widespread illiquidity can lead to panic amongst investors is fresh in regulators' and institutions' minds following the episode post-Brexit vote when there was a run on real estate funds and a temporary ban was placed on withdrawals following the surge in redemption requests.
There is little reason why, given the right set of economic circumstances, such an event wouldn't happen in the corporate bond market.
Currently there are two events in the near future which could prompt a sell-off in corporate bonds.
The first is a potential reduction in the monthly €60 billion of securities the ECB currently buys. Should they decide to reduce these then investors may dump bonds in favour of equities, cash or gold.
The second potential problem is of course Italy. The general election is due to happen before next May and should Eurosceptic party, the Five Star Movement, win then we are likely to see panicked bond selling.
Worries about corporate bond markets or balance sheet shenanigans by banks do not seem to be causing much concern amongst the UK electorate and savers. But a quick snapshot of how finances look at a household level should be provide a much needed wakeup call.
A decade on, what damage can be done
Woods's speech about the state of banks' clever balance sheets was ultimately about their desires to return 'to the punchbowl' as they try to boost credit and risk. The chief executive said that his organisation had seen"a shift in credit risk appetite as lenders compete with each other to find ways of widening the pool of available borrowers, increasing the size of loans available to them, or reducing the credit premium charged for inherently more risky loans."