Futures Slide, Global Rally Fizzles; Oil Set For Longest Rally On Record
For the second day in a row, the S&P's recent torrid post-Christmas rally which has seen the S&P up +10.44% over the last 11 sessions, the best such stretch since October 2011, is in danger of ending as U.S. stock futures edged lower 0.3%, while European shares were mixed and Asian markets rose at as sentiment was bolstered by continued dovish tone from the Federal Reserve and hopes for a breakthrough on trade. The dollar slide continued even as Treasuries finally advanced and the oil rally continued for a record 10th day, while the US government shutdown tied the longest ever, as it entered its 21st day.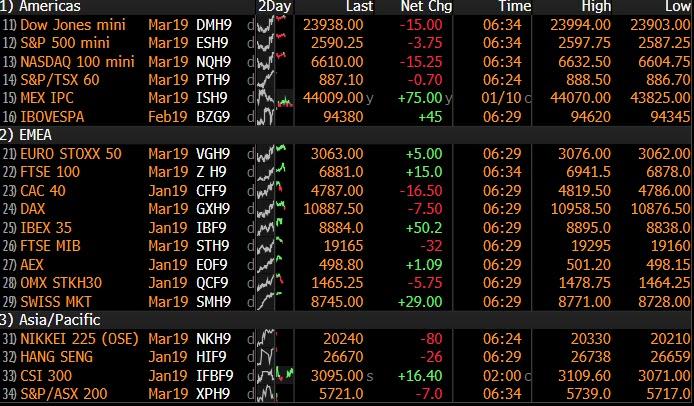 With renewed promises of patience from Federal Reserve, as Fed vice chair Clarida followed Powell on Thursday evening saying the central bank should be ready to adjust monetary policy if headwinds to the economy from financial markets or global growth prove persistent, suggesting caution about moving ahead with interest-rate increases, while the ECB was mulling another dump of cheap money in the form of TLTRO and news that trade talks between Washington and Beijing are moving to higher levels, the Friday feeling was in full effect, even if it appeared to peak in the US where futures initially rose then dropped to session lows.
The Fed's dovish stance also pushed down the dollar and nudged Treasury yields lower after five days of gains again. That cheered emerging markets and confidence more generally having been flattened during the brutal end to 2018: "Equities are having a good run after a pretty horrible end to last year," said Rabobank quantitative analyst Bas Van Geffen. "It is the changing wording of the Fed, it seems to be making more and more room for an eventual pause (in the rate hike cycle)".
Asia had crawled to a 5-week high overnight as shares rose in Shanghai, Tokyo, Seoul and Hong Kong while European stocks were on the edge of fourth straight day of gains and longest winning streak since September.  S&P 500 futures and Nasdaq indexes pointed to a slightly softer open in New York after jumping early in the session after Steven Mnuchin said Chinese Vice Premier Liu He will "most likely" visit Washington on Jan. 30 and 31 for further trade talks. China's yuan, which slumped last year as trade tensions worsened, is heading for its best week since 2005, back when the country dropped a fixed peg to the dollar.