Crypto-Bubble: Will Bitcoin Bottom In February Or Has It Already?
Authored by Michelle Jones via ValueWalk.com,
The new year has been relatively good for the price of bitcoin after a spectacular collapse of the cryptocurrency bubble in 2018. It's up notably since the middle of December and traded around the psychological level of $4,000... so is this a sign that the crypto market is about to recover?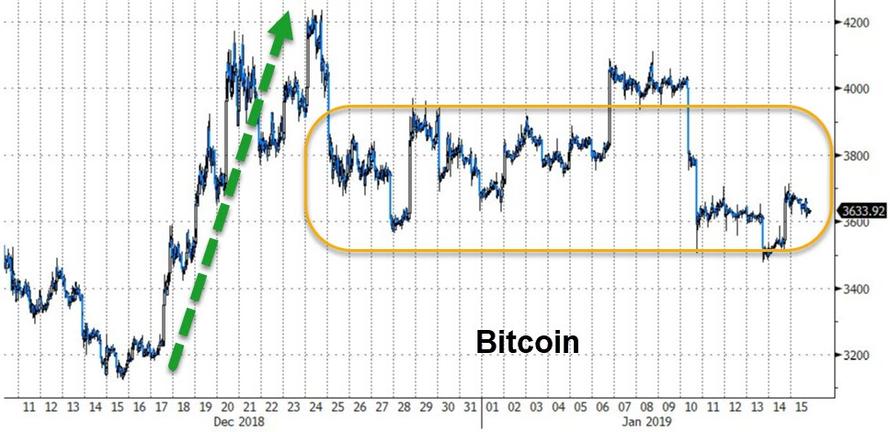 Of course, it depends on who you ask, but one analyst discovered a pattern which might point to a bottom next month.
A year after the cryptocurrency bubble popped
CCN pointed out that this past Monday marked exactly one year since the cryptocurrency bubble popped, leading to a tremendous crash in the bitcoin price throughout 2018.
Data from CoinMarketCap indicates that the market capitalization of all cryptocurrencies hit $835.7 billion on Jan. 7, 2018, making the cryptocurrency bubble market temporarily worth more than Facebook and Twitter combined. A year later, the crypto market cap is only $136.3 billion — even though the number of cryptocurrencies tracked by CoinMarketCap has increased significantly over the last year.
So exactly why did the bitcoin price surge suddenly? Citing a tweet from Whale Alert, a price tracker for bitcoin, a Forbes contributor traced the sudden movement to the sale of about 2,500 bitcoin for nearly $10 million on the Bitstamp exchange. The huge sale shifted the cryptocurrency's daily volume over $5 billion. What makes it particularly interesting is that the bitcoin price is so far holding on to the key support level of over $3,500.
News on bitcoin ETFs could be lending support
One thing which could be helping support the cryptocurrency bubble and bitcoin price is the news that Japan's financial regulator is reportedly considering approving the first exchange-traded fund for the cryptocurrency. Citing an anonymous source, Bloomberg said Japan's Financial Services Agency (FSA) has decided not to allow bitcoin futures but is exploring potential demand for bitcoin ETFs.
Of note, the Securities Exchange Commission has delayed its decision on bitcoin ETFs in the U.S. until February. Meanwhile, U.S. regulators have allowed bitcoin futures, unlike their Japanese counterparts.
Key trend identified in bitcoin price movements
Crypto enthusiasts have long focused on technical indicators in an attempt to forecast where cryptocurrency bubble and the bitcoin price might go next, and Canaccord Genuity analyst Michael Graham recently identified an interesting trend on the price chart.