Chinese iPhone Sales Plummet 20% As Huawei Cements Market Dominance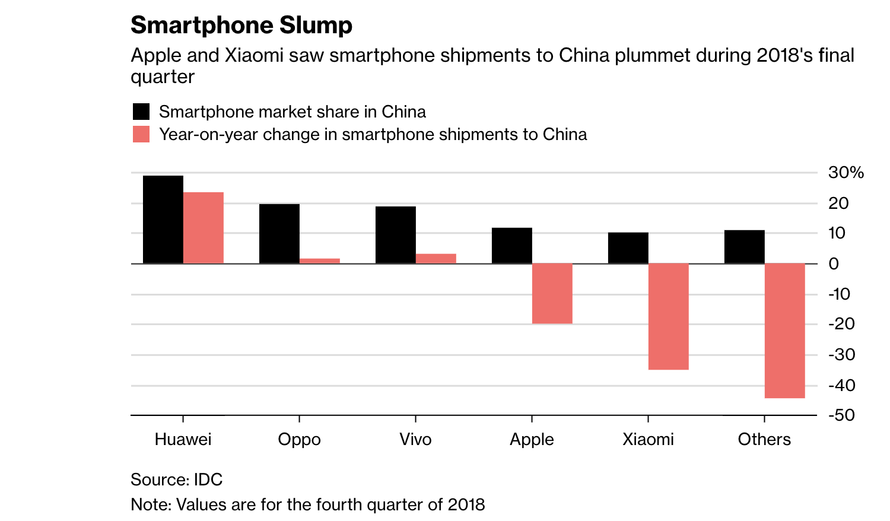 But though a "lack of innovation" across the smartphone universe has inspired consumers to hang on to their handsets for longer, the bigger challenge facing Apple is the rise of Huawei, which briefly overtook Apple as the world's second-largest shipper of smartphones last year. Given its deep roots in China and close ties to the state, Huawei understands the shifting Chinese market in a way that Apple doesn't. While shipments of most other smartphones slumped, Huawei sales soared by 23.3% in the December quarter, leading major brands, according to IDC.



"Apple doesn't have a good go-to market strategy that fits the rapidly changing Chinese market," said Nicole Peng, a senior director at Canalys. "It also seemed to be slow in reacting to China's economic slowdown and changes in consumption structure."



As iPhone sales revenue slid 15% during the last quarter, Apple has been trying to make up for the sales slowdown with increased revenue from its services business, which grew roughly 20% yoy during the quarter - something CEO Tim Cook has sought to emphasize. All told, according to IDC's calculations, Apple was ranked fourth by shipments in China during the quarter behind Huawei, as well as China's Oppo and Vivo.
But with so many "complexifiers", to use the parlance of our times, that could threaten sales during the coming quarters - not the least of which is the recent news that Trump and Xi won't meet before the trade talks deadline on March 1 - it remains unclear whether Apple will be able to boost sales ahead of the advent of 5G-enabled smartphones, which aren't expected to be widely available until late next year.