Basement-Dwelling Millennials Beware: Reverse Mortgages May Evaporate Your Inheritance 
The number of reverse mortgages, or Home Equity Conversion Mortgages (HECM) in the United States between 2005 and 2018 has not shown a recent upward trend - however that may change if Mayer and his cohorts are able to convince homeowners that reverse mortgages aren't what they used to be.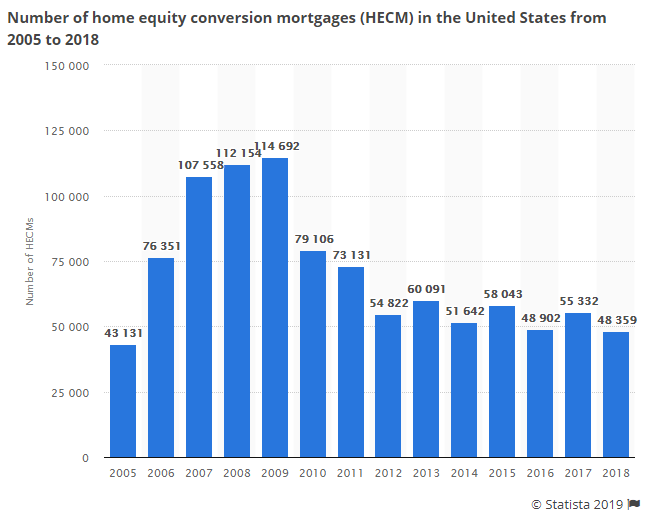 Cleaning up their image
For years, the reverse mortgage industry has relied on celebrity pitchmen to convince Americans to part with the equity in their homes in order to maintain their lifestyle. 



The late Fred Thompson, a U.S. senator and Law & Order actor, represented American Advisors Group, the industry's biggest player. These days, the same company leans on actor Tom Selleck.

"Just like you, I thought reverse mortgages had to have some catch," Selleck says in an online video. "Then I did some homework and found out it's not any of that. It's not another way for a bank to get your house."

Michael Douglas, in his Golden Globe-winning performance on the Netflix series The Kominsky Method, satirizes such pitches. His financially desperate character, an acting teacher, quits filming a reverse mortgage commercial because he can't stomach the script. -Bloomberg



In 2016, American Advisers and two other companies were accused by the US Consumer Financial Protection Bureau of running deceptive ads. Without admitting guilt, American Advisers agreed to add more caveats to its promotions and paid a $400,000 fine. 
As a result, the company has made "significant investments" in compliance, according to company spokesman Ryan Whittington, adding that reverse mortgages are now "highly regulated, viable financial tools," which require homeowners to undergo third-party counseling before participating in one. 



The FHA has backed more than 1 million such reverse mortgages. Homeowners pay into an insurance fund an upfront fee equal to 2 percent of a home's value, as well as an additional half a percentage point every year.

After the last housing crash, taxpayers had to make up a $1.7 billion shortfall because of reverse mortgage losses. Over the past five years, the government has been tightening rules, such as requiring homeowners to show they can afford tax and insurance payments. -Bloomberg



As a result of tightened regulations, the number of reverse mortgage loans has dropped significantly since 2008.