Turkish Lira Tumbles On Soaring Unemployment, "Absolute Shitshow" Investor Meeting
The collapse in the Turkish lira is accelerating this morning, with the USDTRY rising above 5.80 for the first time since last October and CDS pushing to September highs, as the Turkish economy continues to slide ever deeper into recession, with the country on Monday reporting that a whopping 366,000 people became unemployed in the last month, sending the country's jobless rate to the highest level in a decade.
With Ankara trapped, unwilling to let the lira devalue on fears of capital outflows even as inflation surges while the economy is urgently in need of a weaker currency, unemployment rose far more than forecast, rising to 14.7% in January - the highest since 2009 - from 13.5% a month earlier, according to Turkstat data; the number of people without jobs has reached 4.7 million people, with youth unemployment jumping to 26.7% as Turkey is facing another labor crisis.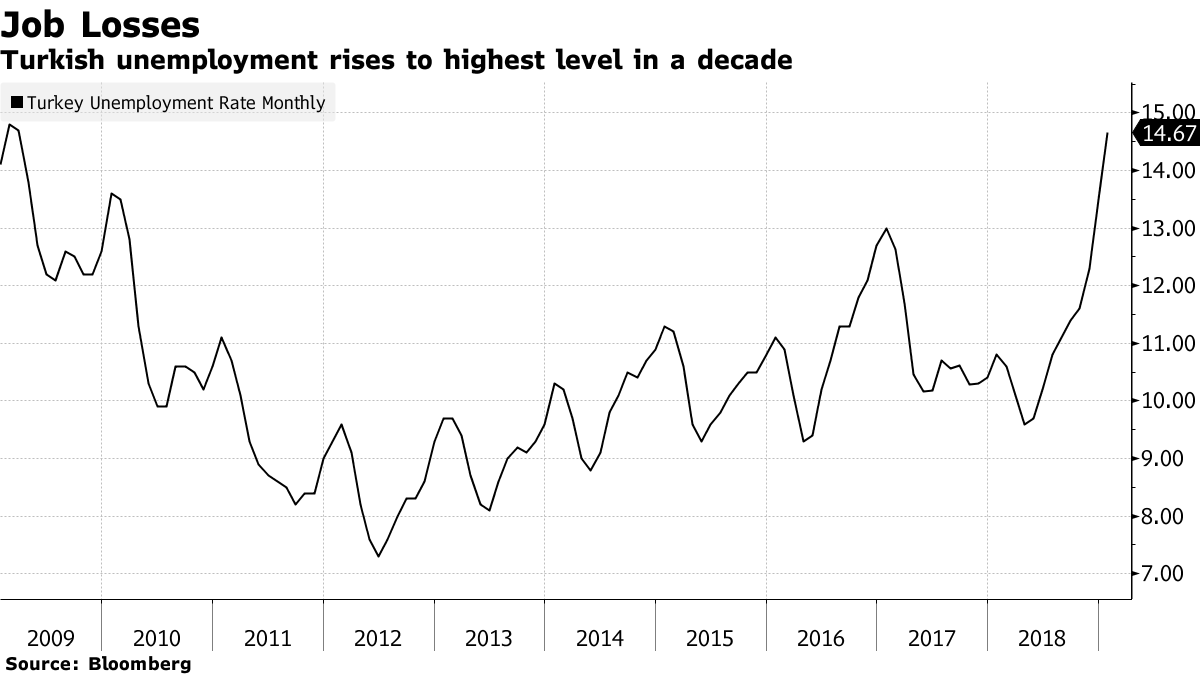 As Bloomberg summarizes "the severity of the job losses despite a last-ditch spending blitz by the government underscores the economic challenges facing Turkey after it entered its first recession in a decade following a currency rout last year that touched off inflation."
The most recent dismal economic data comes at a time when Erdogan's undisputed control over Turkey appears to be slipping following the recent local elections, where many of the municipalities won by the opposition from the ruling party were those where unemployment is running in double digits, official data show. As such, the political headache for the "executive president" is only set to grow as the country finds itself deeper and deeper in what is rapidly developing as a full-blown economic depression.
Meanwhile, investors were also concerned by ongoing speculation that the ruling AKP will challenge the Istanbul election outcome which saw Turkey's most important city flip control to the opposition, after Erdogan's candidate lost the mayoral race in Turkey's largest city to Ekrem Imamoglu, a blow for Islamists who had controlled Istanbul since 1994. "We are going to ask for fresh elections in Istanbul by using our right to make an extraordinary objection," said Ali Ihsan Yavuz, a deputy head of the AKP.