It's said that a fractured market is an unhealthy market. The reverse is true and based on the recent string of index highs the market appears healthy. However, some former tech giant leaders are starting to wane. What does this mean?
The S&P 500 and Dow Jones eeked out a new all-time high this morning, the S&P MidCap 400 recorded a new all-time high last Thursday. The Russell 2000 came within 0.08% of a new all-time high. The Nasdaq Composite recorded a new recovery high on Thursday while the Nasdaq-100 remains below last years recovery high.
On the surface the string of new highs/recovery highs is bullish and shows that the major indexes are firing on all cylinders. A humming engine is less likely to stall. However, there are some early issues that may soon illuminate the "check (stock market) engine light".
While broad indexes remain strong (with the exception of the Nasdaq-100), individual stocks are showing signs of fatigue. In fact, prior tech giant leaders are turning into laggards.
Google (GOOG)
The February 12 article "Will Google Continue to Climb?" highlighted the dashed green support line and support at 760 and stated that the rally will continue as long as prices remain above 760 or dashed green trend line support.
Google broke below support in mid-March and now trades nearly 5% below its all-time high. The 50-day SMA is at 788 and should offer some support.
Apple (AAPL)
We all know about AAPL's historic ascent and decline, but last week it appeared as if AAPL could stage a small comeback. The log chart shows a brief break out above the down hill parallel channel followed by a bearish relapse. A close below the 20-day SMA at 442 could unlock much lower prices (a shockingly low possible target was just revealed in last night's Profit Radar Report).
Amazon (AMZN)
Amazon's chart doesn't offer any particular insight from a technical analysis perspective, but we take note that AMZN is more than 6% below its all-time high already.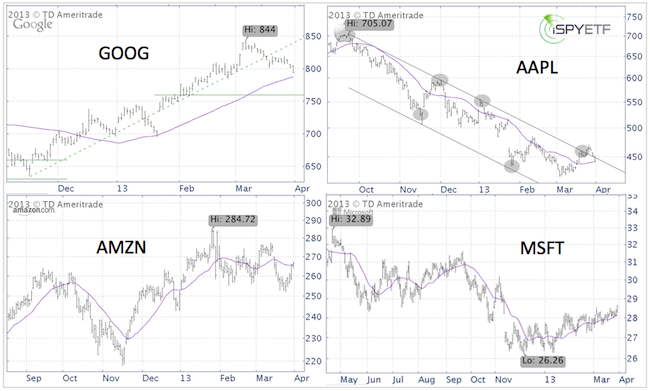 Microsoft (MSFT)
Microsoft has been stuck in a 13-year trading range. MSFT just hit a year-to-date high, but is well below its 2012 high, which incidentally occurred in April.
Summary
It's said that a fractured market is an unhealthy market. Aside from the lagging Nasdaq (primarily caused by Apple), there are no obvious fractures on the broad market index level.
The waning leadership within the large cap sector though is an early warning sign. The S&P 500 is not far away from key resistance (price target) and key support. A move to hit resistance or below support will be a sell (as in go short) signal.
Last night's Profit Radar Report featured a specific rally target and the must hold support.