We all know the 'three strikes and you're out' rule. Historic data (based on the 1987, 2000 and 2007 tops) strongly suggests that every bull market also follows the three strikes rule. This bull is one strike away from being over and out.
"Dead man walking" is an expression used by prison guards as the condemned were led to their execution.  Is the stock market a 'dead bull walking'?
I asked that question back in February right after completing my 2014 S&P 500 forecast.
At the time there was no sign of a major top yet, but since no bull market goes on forever, I published a 3-step quick guide on how to discern a dying bull market (or the formation of a major market top).
Based on historic data, a bull market dies in three stages:
3 Stages of A 'Dying' Bull Market
Psychological process: Finding value becomes a challenge and investors become pickier.
Technical manifestation: The number of stocks hitting new 52-week highs or the percentage of stocks above the 50-day SMA slides lower, while prices climb higher.
Psychological process: Finding value becomes more challenging and investors feel attracted to safer large cap stocks.
Technical manifestation: Small-and mid-cap stocks are lagging large cap stocks.
Psychological process: 'Smart money' is selling stocks to 'dumb money.'
Technical manifestation: Selling pressure increases behind a façade of rising large cap indexes. Declining stocks outnumber advancing stocks.
Back in February the S&P 500 was in stage 1. It was basically graying around the temples, but still a safe distance away from the coffin.
How About Today?
Here's the pulse of today's market:
Value is harder to find  and investors are becoming pickier. On January 14, 2013, 89.54% of NYSE stocks traded above their 50-day SMA. Only 46.24% of NYSE stocks traded above the 50-day SMA at the most recent S&P 500 high on September 19.
Stage 1: Complete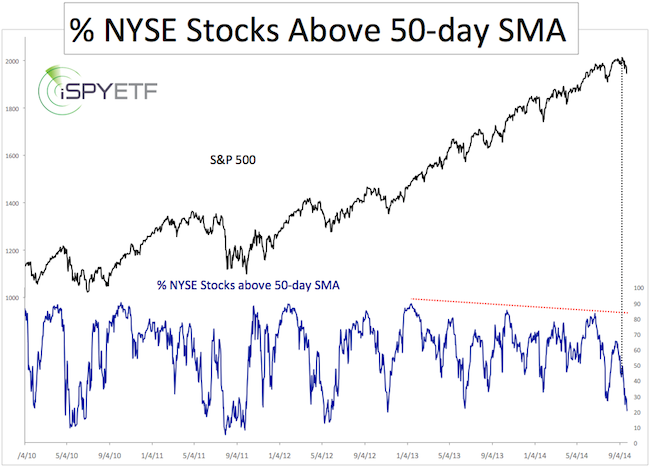 Small cap stocks are under performing. The chart below plots the S&P 500 against the IWM:IWB ratio. IWB represents the iShares Russell 2000 (small cap) ETF. IWB represents the iShares Russell 1000 (large cap) ETF.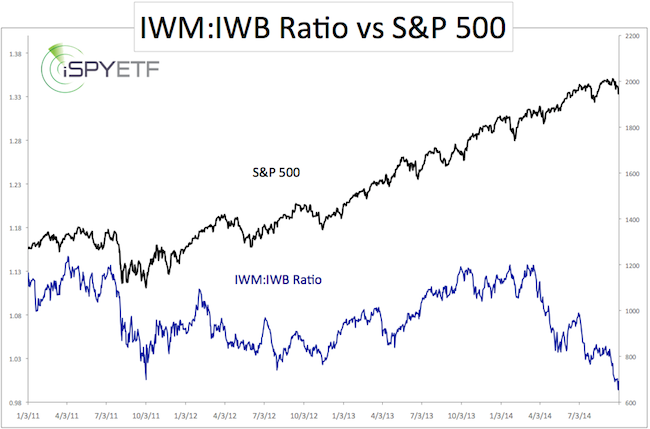 The ratio shows just how badly small caps lag behind large caps, but it also shows why this is only stage 2 of 3 of a dying bull market: Despite small cap weakness, the S&P 500 is still trading near its high.
Stage 2: Complete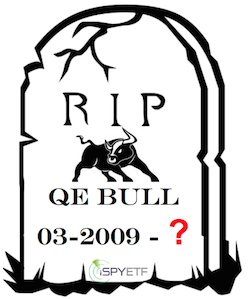 Stage 3 – One Foot in the Coffin?
During the third and final stage, stocks move from strong hands (smart money) to weaker hands ('dumb' money).
This gradual shift takes many months and may still deliver sizeable gains and even blow off frenzies.
Nevertheless, the internal deterioration of stage 3 divergences are terminal.
Being familiar with the three stages of a dying bull market protects investors against turning bearish too soon. Premature bears leave money on the table and/or lose their pants going short.
My favorite 'third stage indicator' correctly foreshadowed the 1987, 2000 and 2007 bear markets. It also telegraphed that any correction since 2010 was to be followed by new bull market highs.
This indicator currently shows a fledgling multi-week divergence, which – if not reversed – may have put an expiration date on this bull market.
A detailed look at this historically accurate 'third stage indicator' is available here:
The Missing Ingredient for a Major Bull Market Top
Simon Maierhofer is the publisher of the Profit Radar Report. The Profit Radar Report presents complex market analysis (S&P 500, Dow Jones, gold, silver, euro and bonds) in an easy format. Technical analysis, sentiment indicators, seasonal patterns and common sense are all wrapped up into two or more easy-to-read weekly updates. All Profit Radar Report recommendations resulted in a 59.51% net gain in 2013.
Follow Simon on Twitter @ iSPYETF or sign up for the FREE iSPYETF Newsletter to get actionable ETF trade ideas delivered for free.