As of 7am ET futures point to a 2% drop following Thursday's rally. That said, airline stocks continued to trade higher on Thursday after the Senate passed a $2 trillion stimulus bill that included more than $50 billion in grants, loans and tax breaks for passenger and cargo carriers.
Air travel is unlikely to recover in full soon, but airline stocks could continue to climb as the risk of bankruptcies and liquidity concerns fade. Two airlines in particular benefited as a result of the Senate passing a $2 trillion stimulus bill – American and United.
First, American Airlines (NYSE: AAL) almost instantly received a price target increase from Benzinga upon the stimulus bill announcement. Over the years, I've found that if a fairly small company such as Benzinga announces a price target increase, a much larger financial company (such as Citigroup) may be next in line to take a bullish stance on a company.
Given an existing bullish news item with anticipation of a bullish announcement from a company with more gravity in the world of finance (such as Citigroup), I'm antsy to see what today's session brings.
Should American Airlines receive bullish news from a large financial institution, I want to be long on the trade itself as a potential bullish announcement happens. Receiving proprietary financial data on a daily basis makes identifying stocks of this nature exciting… laying out technical trading plans is where I come in…
Indicated in green in the chart below is American Airlines' 20-day simple moving average line. Should the stock hold and pop above that key technical indicator, I'll be a bull on the stock as I expect financial experts to be bullish into the end of the week as well.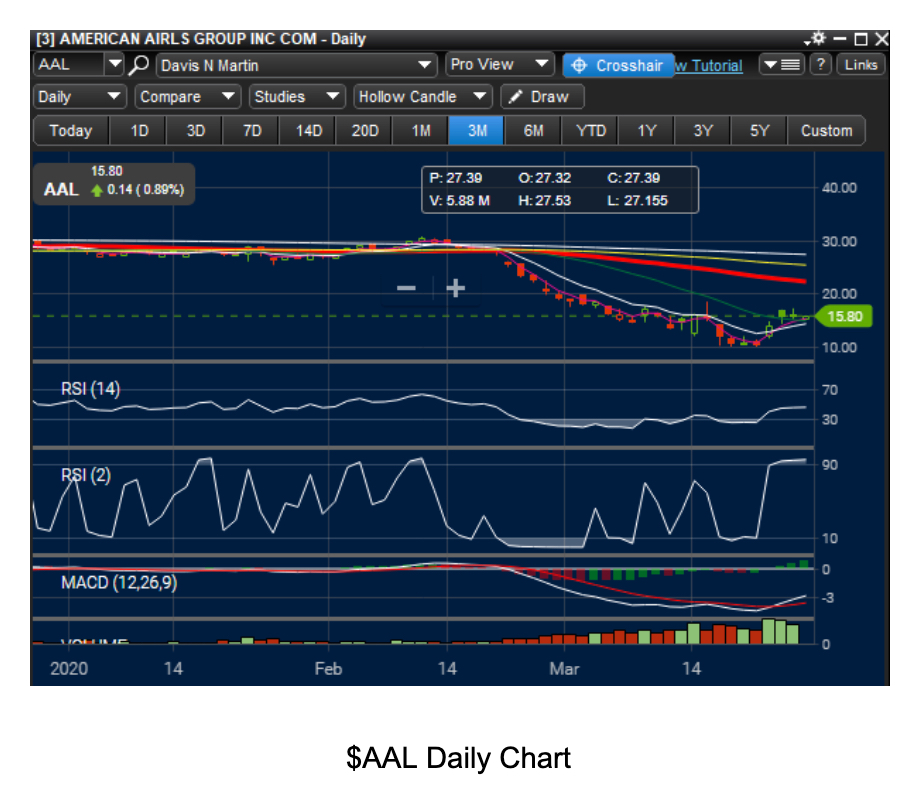 Benzinga's bullish stance on airlines didn't stop with American Airlines… only a few minutes after announcing a bullish stance on American Airlines, they did the same with United Airlines.
Smaller financial professional firms serving as a bellwether of what the heavy hitters on Wall Street may do in the days or even hours to come is certainly beneficial to anyone with eyes on the stock market, investors and active traders alike.
In anticipation of receiving an upgrade or price target increase from a mega-cap financial firm such as Goldman Sachs, I'll be interested in trading United Airlines to the upside above its 20-day simple moving average line, indicated in green on the chart below.




As a trader, I've been in catalyst trades on which financial professionals announce a bullish stance. Not only does it create a picture-perfect trading scenario having paired a catalyst with a technical setup… but also the profits can be a thrill as well.
On a mission to wrap up the trading week on a profitable note, TrackStar has laid out the data… by applying my paid research software and technical analysis backed by a decade of experience, I've delivered a trader's context to you, in the premarket.
Happy trading and enjoy your weekend,



Davis Martin
America's #1 Premarket and Day Trader
Disclaimer: This is not investment advice. This article is for information purposes only and opinion-based on financial advisor data across a selection of websites. Investors should be cautious about any and all investments and are advised to conduct their own due diligence prior to making any investment decisions.