TikTok's nearly 700 million users seek medical advice from random individuals and charlatans, since anyone can claim to be a medical expert on this raging social media machine.
Dr. Google is also working overtime, receiving more than one billion healthcare questions every day.
Web MD is recording over one billion searches a year, too.
When you combine this voracious hunger for digital diagnosis, symptom checkers and immediate medical assistance, with a global mobile app market whose revenues had already hit $365 billion in 2018, and are now on track to generate over $935 billion by 2023 …
You get one of the best bets on disrupting the virtual medicine industry to date. You get Big Tech built by doctors for doctors in the Global Library of Medicine (GLM).
You get Cara, the new, sophisticated AI, powered by the unique Global Library of Medicine, that has been trained by hundreds of doctors to think just like them.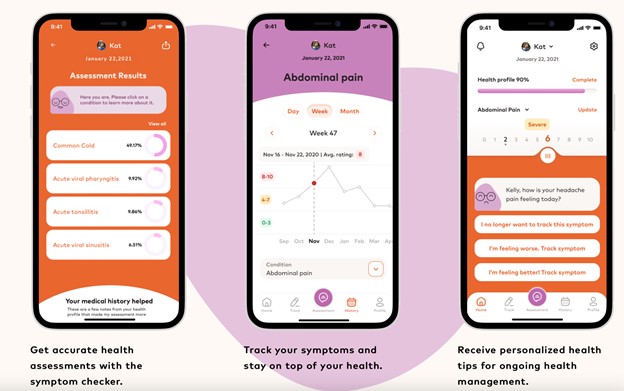 Cara will be launching at the end of November, marking the first time in our medical history that we can check our symptoms online, at the touch of a button, and truly trust what we are being told.
Over the past five years, Treatment.com (CSE: TRUE; OTC: TREIF) has been developing the world's next-generation AI symptom checker, picking up where the billions of requests were left hanging by Google and WebMD … and certainly by TikTok.
Now, the app is about to launch as Treatment Mobile with an intelligent digital assistant, Cara, with over 400 diagnoses by a global team of hundreds of doctors who are adding more every day.
A Digital Fix for a Broken Healthcare System
An overwhelming majority of Americans find the healthcare system impossible to navigate.
Nearly three-quarters have no idea how they will afford their healthcare.
Those two facts have led to a shocking increase in at-home health solutions.
Need a healthcare big tech vendor who knows North American Healthcare
From 2019 to 2020–even before the COVID-19 outbreak–telemedicine grew by 46%.
In 2020 alone, wellness apps were downloaded 1.2 billion times.
Major investment into the telemedicine space combined with a massive increase in uptake and rapidly rising favor among consumers has seen telehealth increase 38X so far in 2021 from pre-COVID levels.
In April 2020, right at the start of the pandemic, telehealth use was 78X higher than in February 2020, according to McKinsey.
Total VC investment into the digital health space in H1 2021 was $14.7 billion. That's more than VC investment for all of 2020, and twice the amount for 2019. That leads McKinsey to project that 2021 could see total investment in the sector hit $30 billion.
The bottom line is this: American healthcare is broken, and digital offerings are a major element of the fix. Cara steps in at exactly the right time to provide the first sophisticated AI that can help bring it all together. This is where big money is going in the healthcare sector.
The Digital Doctor Is In
Working with the University of Minnesota Medical School, Treatment.com (CSE: TRUE; OTC: TREIF) has gathered the best doctors and tech engineers that built the Global Library of Medicine (GLM) from around the world to teach Cara to do two things that no other digital health platform has been able to do successfully:
1) Think like a real doctor
2) Provide consumers with a personalized health assessment and full-on health management
Cara integrates everything by providing consumers with a bridge to wellness, telemedicine, pharma and health products …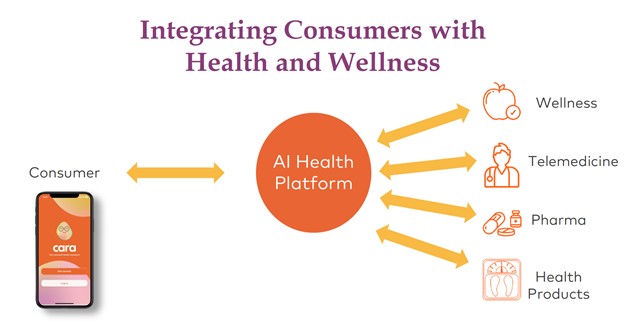 Cara asks you questions about your symptoms and then sorts through millions of pieces of information that include historical medical cases, demographic data and advances in medical knowledge. The end result is a more accurate recommendation than any other digital tool in the world.
Cara helps you understand what your symptom could be. It helps you monitor and track health changes and understand your general health and prevent illness. It gives you personalized support and follow-up and even allows you to track and manage your entire family.
And it can all be integrated with Apple Health Kit, Apple Watch and FitBit.
Treatment's AI has been so effective, in fact, that the University of Minnesota Medical School licensed it to test medical students.
How Does Cara Make Money?
Treatment.com (CSE: TRUE; OTC: TREIF) plans to leverage its healthcare AI to build a multi-billion-dollar business.
The initial app will be free, but there is an impressive scalability here.
This is how the wildly lucrative world of apps works. Once the upfront costs of development and AI learning are paid for, it's all revenue, all the time. And app revenue streams are recurring, which is exactly why the mobile app industry continues to surge.
Consumers will pay for recommendations through premium app subscriptions, and Treatment.com's next move with Cara will be to add a series of paid plugins for everything from dermatology specialty segments, to cardiology.
Additionally, Treatment.com will seek health and wellness partners to integrate to access qualified referrals and improve efficiencies, while simultaneously reducing costs.
There are three revenue-generating avenues here: corporate licenses, health and wellness products and university medical school training.
But the biggest value here is that Cara is a goldmine of data …
Cara's access to individualized health trends will help insurance providers and governments to provide better health services.
In healthcare, big data like this helps avoid preventable diseases by detecting them in their early stages.
The market for big data analytics in healthcare could be worth an astounding $68 billion by 2025, and Treatment.com will have a major advantage with Cara.
WebMD–a private company–is valued at $2.8 billion, and it doesn't even have any AI to back it up.
Treatment.com, (CSE: TRUE; OTC: TREIF) which listed on the Canadian Securities Exchange on April 19th, 2021, is about to launch a healthcare app that could completely change the way we view and access healthcare.
Global Medical and AI Expertise
Founded by John Fraser and Dr. Kevin Peterson, Treatment.com International Inc. (CSE: TRUE)(OTC:TREIF) is a sophisticated big-tech setup from the roots up.
Fraser is a computer scientist and entrepreneur with a background in healthcare technology. He's a 20-year IT software veteran who has done this before. He sold his first unicorn–Vision Share (now Abilities Network)–for over $1 billion.
Dr. Peterson is a leading doctor and tenured professor at the University of Minnesota Medical School. He was also the architect of an international disease surveillance and research system, the first such in the world.
Add to this a global team of doctors in the United States, Canada, Singapore, India, Ethiopia and South Africa and you have the makings of the most intelligent AI symptom checker and health care management platform on the planet.
Again, that's why it's been licensed to train medical students at the University of Minnesota.
The Next Healthcare Wave
The healthcare industry is overripe for disruption, and it's being disrupted in waves.
The most recent wave saw Babylon Health, valued at $4.2 billion in its latest funding round, explode on the scene with an AI-powered platform for virtual clinical operations. Babylon is about to go public via a SPAC deal through a $4.2-billion merger with Alkuri Global Acquisition Corp., led by former Groupon executives.
It's also been disrupted by Teladoc Health, the $25-billion telemedicine behemoth that has nicely rewarded investors. Investors who jumped in on this in early 2018 could have seen gains of over 1,500% by January this year.
When we miss one wave, we move on to the next because the healthcare industry is set to see wave after wave of disruption, and Cara comes next.
Set to launch by the end of October, Cara is about to go mainstream, and because of the global experts behind it, it stands a good chance of becoming the next app to go from zero to hero–and perhaps to billions.
Treatment.com International Inc. (CSE: TRUE; OTC: TREIF) has:
1) unfettered access to a data goldmine
2) A Global Library of Medicine (GLM) that is continually updated and referenced by its AI engine that will eventually scale up to all ~10,000 diseases known to man
3) Proprietary IP that could one day be worth billions of dollars
4) Massive growth runways
The next healthcare disruption is about empowering consumers to take better care–and control–of their health, and early-in investors may have a unique opportunity here with a new app that puts another big patch on a broken healthcare system.
Other companies looking to transform healthcare:
3D Signatures Inc. is a high-tech Canadian firm that has found itself in the center of two explosive sectors. It's armed with an innovative new software platform which uses 3D analysis to target various diseases and help clinicians identify a diagnosis and optimize treatment plans. 3D Signatures' software is saving doctors time which could be the difference of life and death for some patients.  3D Signatures sets itself apart from its competition through creating individualized treatment plans for patients. Using its mapping platform, the software can determine how a disease will progress and whether or not the patient will respond to treatment
3D Signatures' broad scope and futuristic technology brings a promising opportunity to potential investors. It truly is at the forefront of a new era in medicine, and investors should not overlook this company's massive potential.
CRH Medical Corporation specializes in products and services designed for the treatment of gastrointestinal diseases in the United States, Canada, and internationally. With a long history within the space, CRH has positioned itself as a leader in the field, trusted by medical professionals all over the world.
CRH also made a majpr acquisition at the beginning of the year, buying out Anesthesia Care Associates, LLC, an Indiana-based gastroenterology anesthesia practice. The estimated $2.6 million deal will increase CRH's footprint in the space, and has been well received by investors.
AEterna Zentaris Inc. (TSX:AEZS) is a major biopharmaceutical up and comer. The company has seen steady growth, and an array of new developments over the recent years. With a focus on oncology, endocrinology, and women's health solutions, AEterna has created a variety of new products, including Macrilen, the first and only FDA-approved oral test for the diagnosis of Adult Growth Hormone Deficiency.
Recently, AEterna received European approval to market Macrillen which has pushed its value even higher. Dr. Christian Strasburger, the Head of Clinical Endocrinology at Charité Unversitaetsmedizin Berlin and the principal investigator for macimorelin explained, "Clinical studies have demonstrated that macimorelin is safer and much simpler to administer than the current methods of testing for insulin-induced hypoglycemia, and is well-tolerated by patients and reliable in diagnosing the condition."
Aptose Biosciences Inc. (TSX:APS) is a biotech company specializing in personalized therapies to address Canada's unmet oncology needs. The company uses genetic and epigenetic profiles to gain insights into certain cancers and patient populations in order to develop new treatments within the space.
Aptose has an exclusive partnership with Ohm Oncology to develop, manufacture and commercialize APL-581 in order to treat hematologic malignancies and related molecules.
Toronto-based Field Trip Health (TSX:FTRP) is taking a three-pronged approach in their work in the transformative psychedelic medicine sector. Not only are they involved in drug development, but they're also involved in manufacturing and run a number of treatment clinics.
Field Trip has hit the ground running. With clinics currently operating in Toronto, Los Angeles, and New York, they have plans to ramp up to 75 clinics – providing psychotherapy along with psychedelic treatments. As one of the frontrunners in this exciting new industry, investors are keeping a close eye on Field Trip.
By. Charles Kennedy
** IMPORTANT NOTICE AND DISCLAIMER — PLEASE READ CAREFULLY! **
PAID ADVERTISEMENT. This article is a paid advertisement. Advanced Media Solutions Ltd. and its owners, managers, employees, and assigns (collectively "the Publisher") is often paid by one or more of the profiled companies or a third party to disseminate these types of communications. In this case, the Publisher has been compensated by Treatment.com International, Inc. Inc. ("Treatment.com" or "Company") to conduct investor awareness advertising and marketing. Treatment.com paid the Publisher to produce and disseminate six articles profiling the Company at a rate of seventy-five thousand US dollars per article. This compensation should be viewed as a major conflict with our ability to be unbiased.
Readers should beware that third parties, profiled companies, and/or their affiliates may liquidate shares of the profiled companies at any time, including at or near the time you receive this communication, which has the potential to hurt share prices. Frequently companies profiled in our articles experience a large increase in volume and share price during the course of investor awareness marketing, which often ends as soon as the investor awareness marketing ceases. The investor awareness marketing may be as brief as one day, after which a large decrease in volume and share price may likely occur.
This communication is not, and should not be construed to be, an offer to sell or a solicitation of an offer to buy any security. Neither this communication nor the Publisher purport to provide a complete analysis of any company or its financial position. The Publisher is not, and does not purport to be, a broker-dealer or registered investment adviser. This communication is not, and should not be construed to be, personalized investment advice directed to or appropriate for any particular investor. Any investment should be made only after consulting a professional investment advisor and only after reviewing the financial statements and other pertinent corporate information about the company. Further, readers are advised to read and carefully consider the Risk Factors identified and discussed in the advertised company's SEC, SEDAR and/or other government filings. Investing in securities, particularly microcap securities, is speculative and carries a high degree of risk. Past performance does not guarantee future results. This communication is based on information generally available to the public and on interviews with company management, and does not (to the Publisher's knowledge, as confirmed by Treatment.com) contain any material, non-public information. The information on which it is based is believed to be reliable. Nevertheless, the Publisher cannot guarantee the accuracy or completeness of the information.
SHARE OWNERSHIP. The Publisher owns shares and / or options of the featured company and therefore has an additional incentive to see the featured company's stock perform well. The Publisher does not undertake any obligation to notify the market when it decides to buy or sell shares of the issuer in the market. The Publisher will be buying and selling shares of the featured company for its own profit. This is why we stress that you conduct extensive due diligence as well as seek the advice of your financial advisor or a registered broker-dealer before investing in any securities.
FORWARD LOOKING STATEMENTS. This publication contains forward-looking information which is subject to a variety of risks and uncertainties and other factors that could cause actual events or results to differ from those projected in the forward-looking statements. Forward looking statements in this publication include, but are not limited to, the size and anticipated growth of the market for the company's products, the anticipated growth of the market for AI-assisted products generally, the anticipated growth of the market for app-based products generally, the anticipated launch date for the company's products, the anticipated growth of the market for health care app-based products generally, the anticipated launch date for the company's products, and the anticipated growth and expansion of the medical library to which the company's products have access. Factors that could cause results to differ include, but are not limited to, the companies' ability to fund its capital requirements in the near term and long term, the management team's ability to effectively execute its strategy, the degree of success of the AI technology used in the company's products, the company's ability to effectively market the company's products to customers within its three anticipated revenue streams, supply chain constraints, pricing pressures, etc. The forward-looking information contained herein is given as of the date hereof and we assume no responsibility to update or revise such information to reflect new events or circumstances, except as required by law.
INDEMNIFICATION/RELEASE OF LIABILITY. By reading this communication, you acknowledge that you have read and understand this disclaimer, and further that to the greatest extent permitted under law, you release the Publisher, its affiliates, assigns and successors from any and all liability, damages, and injury from this communication. You further warrant that you are solely responsible for any financial outcome that may come from your investment decisions.
TERMS OF USE. By reading this communication you agree that you have reviewed and fully agree to the Terms of Use found here http://oilprice.com/Terms-of-Use. If you do not agree to the Terms of Use http://oilprice.com/Terms-of-Use, please contact Advanced Media Solutions Ltd. to discontinue receiving future communications.
INTELLECTUAL PROPERTY. oilprice.com is the Publisher's trademark. All other trademarks used in this communication are the property of their respective trademark holders. The Publisher is not affiliated, connected, or associated with, and is not sponsored, approved, or originated by, the trademark holders unless otherwise stated. No claim is made by the Publisher to any rights in any third-party trademarks.