Germany's DAX 30 just hit a near 5-year high, while other European exchanges are down more than 90% from their all-time highs. The SPDR Euro STOXX 50 ETF has arrived at a critical juncture.
"Luegen haben kurze beine". So goes a German saying. Translated: Lies have short legs or more appropriately, lies don't travel far.
Much like the Federal Reserve, the European Central Bank (ECB) has been busy pumping money into the economy. This is supposed to keep government bond interest rates low and prevent entire countries (you know which ones) from defaulting on their debt.
Germany's DAX 30 just closed at the highest level since 2008, Britain's FTSE 100 is within 10% of a 5-year high, and France's CAC 40 eked out a 1-year high.
But lies don't travel far, or ECB money doesn't travel far (connection between "lie" and "ECB money" intended) and hasn't reached the exchanges of Serbia, Slovakia, Macedonia, Bulgaria, etc. The major indexes of at least eight European countries are trading more than 70% below their all-time highs.
The chart below, published by the European Elliott Wave Financial Forecast, shows 16 European markets and their exchanges.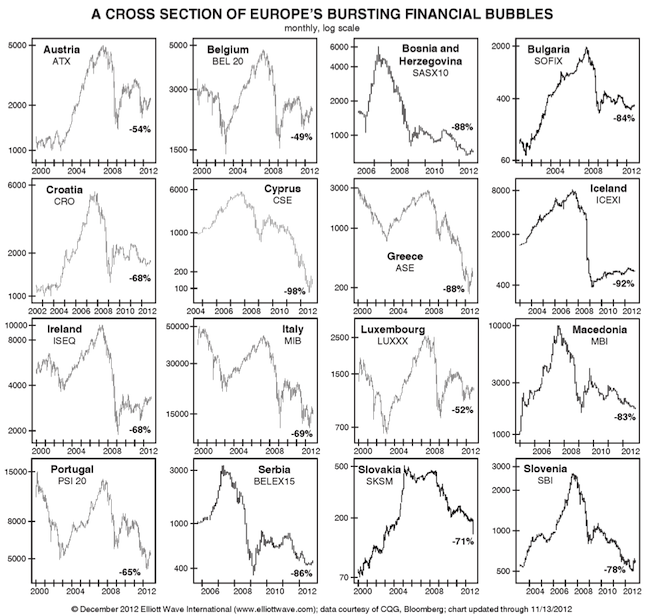 The SPDR Euro STOXX 50 ETF (FEZ) – which includes 50 of the largest companies from France, Germany, Spain, Italy, Netherlands, Belgium, Finland and Ireland – is still trading 50% below its December 2007 all-time high.
More importantly though, FEZ is within striking distance of double resistance (red lines in the chart below). How FEZ reacts to this resistance cluster may well set the tone for weeks to come.