Investors have no clue what goes on behind closed doors at Wall Street banks and the Federal Reserve. But once and a while a juicy piece of information (probably overlooked by censors) provides a glimpse of Wall Street's carefully guarded secrets.
The New York/Washington Banksters do a good job of keeping internals hidden, but once in a while a juicy nugget escapes. Those kinds of nuggets make investors lose faith in everything Wall Street, that's why Banksters like to keep them secret to begin with.
Insider Tips from the Federal Reserve?
On August 17, 2007, the Federal Reserve cut the discount rate from 6.25% to 5.75%. The Fed is quite careful about changing the discount rate, and when it does it's usually only tweaked by 0.25%. The 0.5% cut on August 17 was 'unexpectedly' drastic.
The Fed regularly releases transcripts of its policy meetings with a 5-year lag. Courtesy of such a release we are now getting a glimpse of what happened leading up to the August 17, 2007 meeting.
In an August 16 video conference call, Timothy Geithner (back then president of the New York Fed) said banks "obviously don't have any idea that we're contemplating a change in policy."
Jeffrey Lacker, head of the Richmond Fed, questioned Geithner's statement and asked: "Did you say that they are unaware of what we're considering or what we might be doing with the discount rate?"
What reason did Lacker have to question Geithner? The transcript continues: "I (Lacker) spoke with Ken Lewis, president and CEO of Bank of America, this afternoon, and he said that he appreciated what Tim Geithner was arranging by way of changes in the discount facility."
In a statement provided to Reuters last Friday, Lacker reiterates: "From conversations I had prior to the video conference call on August 16, 2007, I was aware of discussions among a few large banks about borrowing from their discount windows to support the asset backed commercial paper market.  My understanding was that (New York Fed) President Geithner had discussed a reduction in the discount rate with these banks in connection with these initiatives."
What's the Difference?
What difference does this make you may wonder. The chart below provides a nice visual. The Fed hasn't had a chance to lower rates in years, but right before the financial crisis interest rate announcements sparked anticipation like nothing else.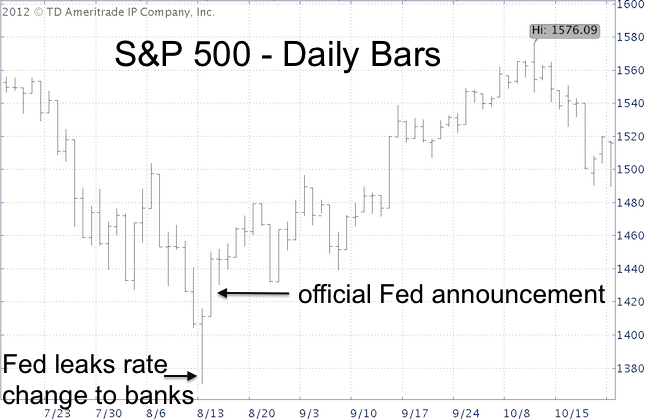 At 2pm on August 16 (a day before the official announcement), stocks started to soar for no apparent reason. The S&P 500 jumped 45 points within a matter of hours and recorded its best gain in 4 ½ years.
Financial ETFs like the Financial Select Sector SPDR ETF (XLF) soared as much as 16.95% that day.
The SPDR S&P Bank ETF (KBE) gained as much as 7.26% that day.
Over the next few weeks, the S&P 500 continued to rally more than 200-points. It went as high as 1,576.09. The rest is history with still much mystery.
Although with a more than 5-year time-lag, we now find out that the Federal Reserve kindly gave the big banks a friendly heads up.
The Treasury declined to make Geithner available to comment. Spokesmen for the Federal Reserve Board in Washington, the New York Fed, Bank of America, and Ken Lewis all declined to comment.