Through 2020, we've seen once-in-a-lifetime volatility in the stock market. Some companies continue to perform well, while others are basically completely shut down, and the damage can be reflected in the price per share of their stock.
Over the weekend, Warren Buffett stated he has given up on owning airline stocks. But what stocks might financial professionals such as Buffett be looking at right now? Why are they interested in them?
Well, let's start with a proven outperformer in 2020…
There's one company which continues to be in high demand, that portfolio managers continue to buy into, and financial institutions continue to upgrade… Advanced Micro Devices (NYSE: AMD).
Advanced Micro Devices is the single largest holding by multiple growth funds, has been receiving about one upgrade per week by financial analysts, and recently stepped into the gaming sector, which is in high demand as many individuals are staying at home.
Advanced Micro Devices was recently approached by Oxide Games with an offer to join forces in an effort to advance their gaming graphics.
After reaching an agreement, Advanced Micro Devices and Oxide Games announced a multi-year partnership to co-develop graphic technologies from the growing cloud gaming market.
This is a new world for Advanced Micro Devices, and a perfect example of how they continue to strive for growth and innovation while many companies have been shrinking and in a panic.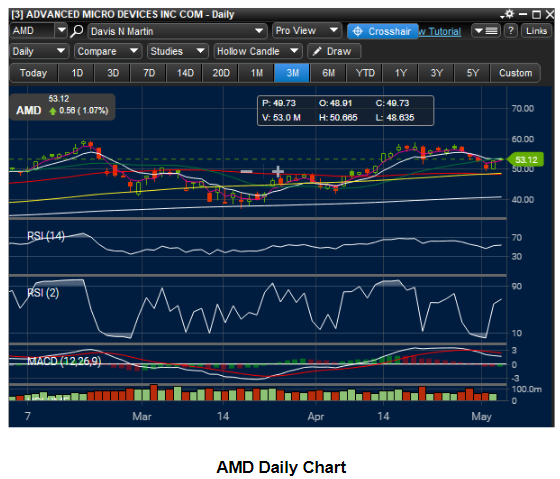 While Advanced Micro Devices may eventually compel me into investing in the company itself, today I'm interested in trading it to the upside.
Advanced Micro Devices is currently trading right at $53/share support after trading on 62,500,000 in volume yesterday, which was a pretty boring day in the stock market overall…
Should Advanced Micro Devices trade above $53/share, a new all time high could be possible for this stock in the weeks to come, market depending.
I'll look to take a bullish position above $53/share support, and likely pay myself in full by the end of the day.
Yours for TrackStar trading,



Davis Martin
America's #1 Premarket and Day Trader
Disclaimer: This is not investment advice. This article is for information purposes only and opinion-based on financial advisor data across a selection of websites. Investors should be cautious about any and all investments and are advised to conduct their own due diligence prior to making any investment decisions.