InvestingChannel, Inc. takes home 4 awards at the 21st Annual Financial Communications Society's Portfolio Awards after being named to Gramercy Institute's 20 Most Valuable Partners in Financial Marketing in 2015
NEW YORK CITY, NY (May 6, 2015) – InvestingChannel, Inc. has had a tremendous start to 2015 drawing high praise this year from multiple award organizations. At the 21st Annual Financial Communication Society Awards, honoring excellence in all financial advertising, media and public relations, the company was one of a few digital media companies to win a Portfolio Award and walked away with 4 Portfolio Awards. This year's competition had a record number of financial brands submitting a record number of entries for the prestigious award. InvestingChannel was awarded: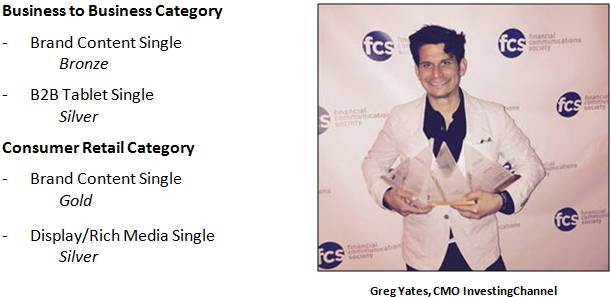 In addition to being recognized by the FCS, InvestingChannel was also recently honored by being named to Gramercy Institute's 20 Most Valuable Partners in Financial Marketing for 2015. InvestingChannel was selected by multiple financial services firms for its excellence in creating and delivering thought leadership messaging and value through innovative and custom content marketing programs. "InvestingChannel is honored by this recognition from our esteemed peers, marketing clients and distinguished organizations in our industry," said Bob Verrico, Executive Chairman and co-founder of InvestingChannel. "We are proud that our innovative and out-of-the-box collaborations with our clients are leaving a mark in the industry and also with their target audiences."
About InvestingChannel, Inc.
InvestingChannel is an interactive media platform with over 300+ expert independent financial websites producing over 1,000 articles a day for an influential audience of 18+ million investors monthly, both retail and professional.
InvestingChannel's audience of influential decision makers is affluent, engaged, high-end lifestyle oriented and spans the complete finance spectrum including Individual Investors, Active Traders, Financial Advisors, Institutional Investors and more. All avidly read and watch our award-winning, independent perspectives on current and changing financial landscapes, to gain the edge needed to succeed in today's volatile economy. Within this coveted environment, InvestingChannel provides a complete suite of business services and solutions for Advertising and Publishing Partners.
For more information, please visit media.investingchannel.com.
About the Financial Communications Society
Founded in 1967, the FCS is the singular voice of the financial services marketing community across the U.S. With three regional chapters in New York, Chicago and San Francisco, FCS provide industry professionals with a multi-faceted forum for gathering relevant information, sharing actionable ideas and building valuable relationships with fellow practitioners.
FCS Members hold mid- to senior-level management positions at financial services firms including banks, brokerage firms, asset and investment management firms and insurance companies, as well as the diverse companies that service the industry, including creative agencies, media firms, technology and resource providers, as well as executive recruiters.
FCS Members work in in all disciplines of financial marketing communications, from branding and advertising to media and public relations, from corporate and client communications to digital and social strategy.
About the Gramercy Institute
Based in New York, the Gramercy Institute is the world's leading network for senior marketers from the world's leading financial institutions. GI hosts over twenty-five conferences, summits, forums and award shows each year in leading financial hubs worldwide including Boston, Chicago, Hong Kong, London, New York, Philadelphia, San Francisco and Toronto.
The mission of the Gramercy Institute is "to provide insight and information to senior marketers from the world's leading financial brand while honoring and sharing the industry's very best practices."
Founded in 2002, The Gramercy Institute also provides research, analysis and consulting to the world's top financial brands. The Gramercy Institute is led by Chief Executive Officer Bill Wreaks. Wreaks is a seasoned executive with over twenty-five years of experience servicing the marketing needs of the world's leading financial brands.